Mili Dakshin & Khushi Dakshin are students at Macquarie Fields Selective High School in New South Wales.
Mili and Khushi both have a unique talent of speed painting ie they can complete a painting in about 7 minutes or so in front of the audience.
They are using this skill to raise funds for various charities! After the painting is done, the paintings get auctioned and fetch substantial amounts so that the amount can go to someone in need.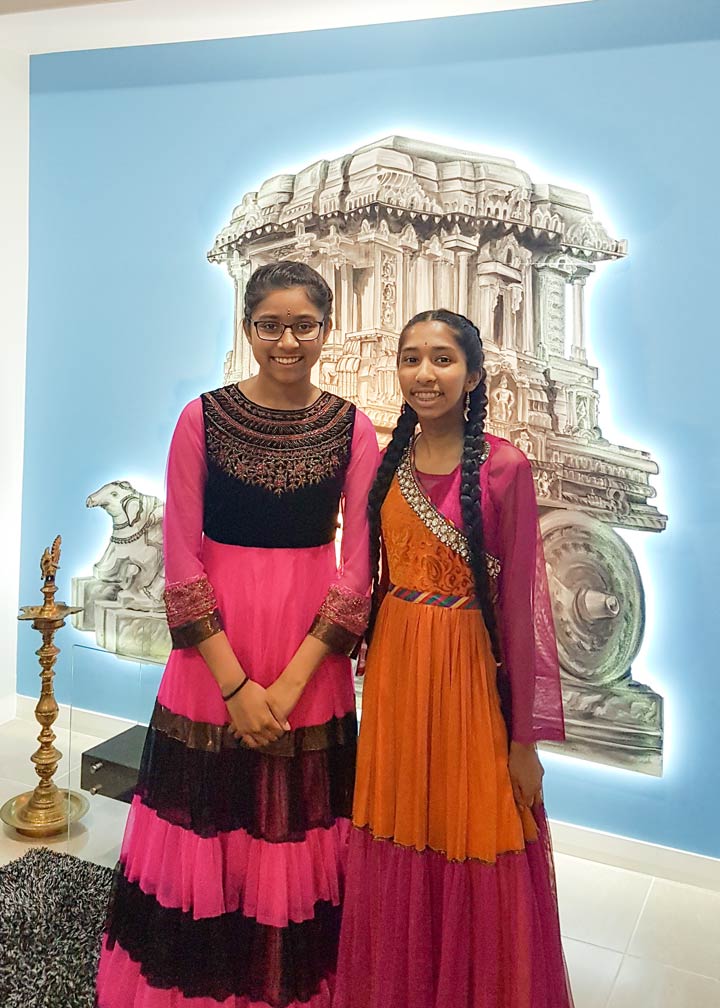 They both have done speed painting in the past at the following events and have raised more than $40,990 so far to help the following Organizations/events.
Vision 2020 Charity Ball – Raised fund to help build schools and toilet facilities in India
Who's Who in Sydney – Raised funds for Lupus foundation
Rotary club of Strathfield – Raised funds for local community projects
Sewa Australia – Raised funds to help Flood affected victims from Uttarakhand, India
Sewa International – Raised funds to help Earthquake victims during the Nepal Earthquake
Open 'Ekal Vidyalay' (to open schools in remote locations in India)

Sewa International – Raised fund to help Guruji Rugnalaya Cancer Hospital in India

Sewa International – Raised funds to help buy backpack and rain coats for remote village schools in India
Indian Australian Cultural Association of Illawara Inc.
Apart from the above events, they have performed in various other high profile events like
Pravasi Bharatiya Divas, International Convention Centre, Sydney.

Tikkun Olam, a Jewish community program,

Diwali celebration at Strathfield council,

Sydney Kannada Sangha

Ganeshothsava by Friends of India Australia, Liverpool

India Australia Friendship fair by United Indian Associations at Olympic Park

Parra Masala at Parramatta

IACAII (Indian Australian Cultural Association of Illawara Inc.) Independence day celebration.

Conducted free painting and craft workshops at Bala Sanskara Kendra, IAAFA, Sydney Kannada Sangha etc.

Created unique 'Kollam (Rangoli) Walkway' for Bec & Bridge during the famous Sydney Fashion Show

Given Speed painting demo on TV in India
Other Awards / Achievements
Mili is one of the 8 finalists selected for the '2018 YOUNG COMMUNITY ACHIEVER OF THE YEAR' award by IABCA (India Australia Business and Community Awardshttps://www.iabca.com.au ) for 2018. This will be announced on 12th Oct at Brisbane.
Mili was recognized for her services to the community by UIA (United Indian Associations Inc) and was awarded the prestigious 'Excellence in Community Services' in the year 2015.
Mili was nominated by the Macquarie Fields High School for her community services and was nominated for the Youth Excellence award from Rotary Club Campbelltown in 2017 under two categories Creative Arts and Community Services. She got the Runner up award for Community Services.
Mili has won various other awards/prizes from Fairfax News Papers, Camden Chamber of Commerce, RealEstate Partners and appreciation award from UIA
Khushi has won the Dux award from Currans Hill Public School for outstanding academic excellence in 2015.
Future Goals
Both Mili and Khushi want to continue raising fund for charity using their skill and help the less privileged.
One of their ambition to help the Blind children in Bengaluru by raising sufficient money to buy required equipment for the Blind School.
Also they want to transfer their skill to the youngsters and hence they have started 'Dakshin's art classes'.
Interests
Mili
Charity work and Volunteering,
Conducting free painting and craft workshops
Teaching Painting and craft to kids
Other interests: Vegetable carving, playing Tennis, Taekwondo, Ice Skating, Gymnastics
Khushi
Charity work and Volunteering,
Conducting free painting and craft workshops
Teaching Painting and craft to kids
Other interests: Vegetable carving, Tennis, Taekwondo, Computers, Reading